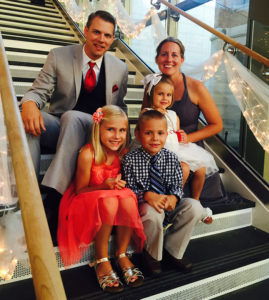 At Peace Lutheran, we strive to be a place where you be filled with the message of God's grace and his love for you.
The message of God's grace brings peace for hearts and minds in this broken world. God's peace through Jesus is a gift like no other in this world. Come and be part of our church family and bask in the warmth of God's peace.
Our pastor is Pastor Joel Schwartz (Pictured to the left). Pastor Schwartz is married to Bethany and has three children: Elise, Tyler, and Natalie. Pastor Schwartz has served souls in the area for over 9 years. He enjoys hanging with his family in God's great outdoors. You will also find him coaching his kids in various sports. He serves in the community as a chaplain to Pasco County Fire Fighters. He graduated from Martin Luther College in 2004 with a Bachelor of Arts. He graduated from Wisconsin Lutheran Seminary  in 2008 with a Master of Divinity. He is glad to serve you and your family in any way he is able. 
We are glad you found us. Please take a look at our website. If you have any questions don't hesitate to contact us.